Sent for review. Purchased by me. Affiliate links.

Happy Friday! This has been the fastest and slowest week for me. I don't know where the time goes, but the weekend seems to have taken forever to get here! I didn't have time for a proper Fab Five Friday, so here are some tidbits you need to know about before the weekend.

1. I discovered I'm allergic to sulfates this week! I accidentally used a shampoo with Sodium Lauryl Sulfate and discovered scabs on my scalp about two days later. GROSS. Years ago, I would get them from time to time. I never put two and two together before now. Have you ever noticed the same thing? If you believe you are allergic to sulfates, what happens to you? I'm so curious!

2. This
Sally Hansen Cuticle
Rehab
is amazing. I'm not sure why, but my cuticles are better than ever. It's not an oil, but it's more of a salve, which isn't a sexy word, or even a word I've ever used on this blog. But your cuticles will benefit like crazy, so definitely try it!
3. I'm all into nudes right now. Nothing but liner and mascara, plus a really pretty, natural gloss. My favorite?
Votre Vu's Tender Lip Lustre
. It's a beautiful, natural, peachy nude. It's not light enough to look retro, but not your standard browny nude. Plus it feels fantastic. (That ring is from
PANDORA
. I love it!)
4. I've been road testing this pretty red polish from
Nicka K in 122 Red Hood
that I received in my
BeautyBox Five
this month for about four days. It claims to avoid chipping, so to put it to the test, I've been wearing it with no top coat. I'm impressed so far! No chips!
5. I've got giveaways like crazy right now. Enter to win any or all of this amazing loot!
Better Than Sex Mascara from Too Faced
gives you lashes that are HOT!HOT!HOT! Enter to win one for yourself while you still can!
Win a beautiful watch from Jord
. You'll be the first on your block to own a wooden watch, but not for long! They are gorgeous!
Win a $100 Gift Card from Target
from St. Ives. Psst- check out their new spray lotion. It's amazing.
Have a great weekend! Enjoy every second of it - Mondays come way too fast during the summer!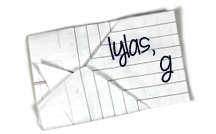 Find Kelly on
Google+
,
Twitter
or
Facebook
. Official
disclosure/disclaimer
statement can be found here.
Subscribe
and never miss a thing!
Copyright 2009-2014, Gouldylox Reviews. All Rights Reserved.