I can't believe it's been five years since I started this blog! I still love hair and makeup just as much today as I did then. It's been a crazy road, filled with amazing new friends, experiences I never thought I would would be mine and a lot of lipstick!
I wish I had a fancy giveaway to share, but honestly, I'm just happy for my health to return. I'm sure I'll share more later, but here's the quick version of where I've been for the last week and a half and why you haven't heard from me. I was having a migraine that refused to end for more than three weeks. I went in for a test that required a spinal tap and ended up having a not-that-common reaction to the procedure. For a week, I couldn't get out of bed, lift my head or even cough, without blinding pain. Yesterday, I went to two hospitals hoping to get another procedure, a blood patch, which could potentially make the pain stop. Thankfully, I found an amazing anesthesiologist who was willing and able to do the 20 minute procedure to make that happen. While I still can't quite walk on my own, the searing pain in my head has stopped and I hope to finally be back to normal by the end of this week!
Thanks for reading my daily blatherings on makeup, for writing in with questions and comments, for being the nicest and most polite place in the world to discuss makeup! I am fortunate to have the best readers, friends and little sisters a girl could ask for. And who can forget Loxy? My hilariously awesome husband who always answers my idiotic questions (does forty-five get a hyphen?) and never gets mad when we stop at Walgreens because I can see from the stoplight they have a huge beauty section. (Even if we are already running late -- sorry Holly!) I'm a super lucky lady!
Here is a look back at a few of my favorite posts:
The time I got to go to the
Independent Spirit Awards
with one of my favorite people in the world,
Anne Houseman from
Beauty Xpose
.
Loxy's
horrible haircut experience
, for which he fully paid and tipped!
The day I used
beauty products to break into my house
, half-blind and unable to speak.
Every post from the amazing
Makeup Wars
team.
Growing out my hair
, drawing diagrams and learning how to use bobby pins.
A
really silly dinner
while visiting friends in LA.
Thank you for reading! I really do love you like a sister!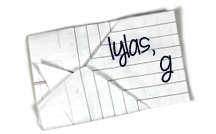 Find Kelly on
Google+
,
Twitter
or
Facebook
. Official
disclosure/disclaimer
statement can be found here.
Subscribe
and never miss a thing!
Copyright 2009-2014, Gouldylox Reviews. All Rights Reserved.