Purchased by Me Sent For Review Affiliate Links

Hello, my friends! Happy Friday! I barely had time to breathe this week, let alone stop and swatch the lipstick. But I still managed to find a few treasures to share this week. To change things up, I thought I would list items, countdown style. Sound fun?
And away. We. Go!
5.
Number five this week goes to
Urban Rituelle's Body Balm in Frangipani
. This body cream smells amazing. It's perfect for those times when your fingers hurt to make a fist. I'm not the only one with skin that dry, am I?
4.
Making a return to the list at number 4 is
Marco Pelusi's Leave-In Conditioner
. This is the BEST for running through your hair and letting nature take its course. My hair looks fantastic if I let it air dry with just this leave-in treatment. My hair looks shiny, has bounce and really knows how to behave. It's a quick way to a messy boho look (that's my new word for air dried hair...it's boho chic)!
3.
I'm still in love with my
Algenist Advanced Anti-Aging Repair Oil.
My skin looks plump, younger and never feels dry. Don't be afraid of this oil. It won't clog your pores. Trust me on this one. It's amazing.
2.
While it's only been a few weeks, I am really liking the new
AHA Moisturizer from My Beauty Bunny
. It's vegan, free of parabens, sulfates and phylates and contains fruit acids to gently help turn over fresh, new skin. It's super light and perfect for anyone with sensitive skin or for those who prefer a touch of light hydration. At the time of writing, it's on SUPER SALE, so hop over there and grab it now!
1.
Finally, my absolute favorite product this week is none other than
Elaina Badro's Makeup Belt
. I know pros have makeup belts, but why do I have one? I'm certainly not planning on heading over to Nordstrom to start beating faces. Instead, I'm trying to be super organized. Every brush is at the ready. I'm not wasting time in the morning trying to find the right contour brush. Everything is in its place! This belt has more than enough room for me to store all of my brushes and is much easier and cleaner than throwing them in a makeup bag. I love everything about this bag!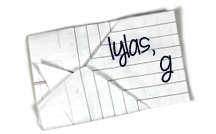 Find Kelly on
Google+
,
Twitter
or
Facebook
. Official
disclosure/disclaimer
statement can be found here.
Subscribe
and never miss a thing!
Copyright 2009-2014, Gouldylox Reviews. All Rights Reserved.