I have tiny lashes. Thin, blond and almost invisible lashes. And if I'm not using Latisse, they are incredibly short. Like I-Don't-Know-How-They-Keep-Anything-Out-Of-My-Eyes short. Needless to say, I've gotten to be a super sleuth when it comes to finding formulas that make the most of my lackluster lashes.
Most of the formulas that work contain fibers, which can go horribly wrong for those with contacts. Plus those formulas always seem to be drying and lead to fibers breaking off and looking shorter by the end of the day. Laura Mercier has
created a formula that gives insane length
, without fibers and without drying polymers.
(My lashes, first thing in the morning, before any makeup.)
The new
Faux Lash Mascara
works its length-building magic
without fibers
. Using just wax and good-for-your-lashes ingredients, this mascara seems to build lashes that almost reach my brows. Lashes are longer, glossy and very dark. If you like longer lashes and want the volume too, this is one of the only mascaras that delivers without fibers. If you are rough on your eyes: rubbing, watering, or touching--you might break off a few of the extensions. If you can leave your lashes untouched, they will last until you remove them. Which is quite easy, I should mention. I've been using just my facial cleanser and water and have no trouble removing them.
If you loved Urban Decay's now defunct primer, hate fibers in any mascara or just have shrimpy lashes, this is the next mascara you need to try. I'm in love.
Pick it up anywhere
Laura Mercier
is sold for $24.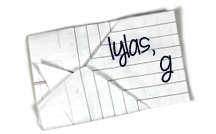 Find Kelly on
Google+
,
Twitter
or
Facebook
. Official
disclosure/disclaimer
statement can be found here.
Subscribe
and never miss a thing!
Copyright 2009-2014, Gouldylox Reviews. All Rights Reserved.