This week was the VIB Sephora Sale, so I have lots to dish about. Here are my favorites of the week!
Algenist Oil Advanced Anti-Aging Repairing Oil
is one of two anti-aging oils sold in Sephora. Anti-Aging isn't a common trait of oils. Hydration and radiance, yes. Anti-Aging, not so much. This oil plumps skin and maintains hydration in a way I've never felt before in an oil. After I tried it on the back of my hand once, I went around showing people the difference in feel and in the appearance of my hand for the next 12 hours. I've never seen anything like it. Algenist's Genius cream also contains this oil, along with other anti-aging ingredients and I'm tempted to pick that up as well, despite the super hefty price tag.
I'm also really impressed with
Roux's line of Anti-Aging Shampoo and Conditioners
. I don't pay a huge amount of attention to many of the brands at Sally's, but this seems to be one worth trying. The shampoo and conditioner are formulated without the traditional sulfates and include keratin to help strengthen weakened hair. It also contains vitamins A and E, panthenol, biotin and UV filters. For about $11, it's a brilliant formula. I'm finding it especially healthy since weakening my hair with so many highlights. It also doesn't contain any sulfates, parabens or sodium chloride. Bonus, you'll get added volume!
Perricone Hypoallergenic Firming Eye Cream
is working wonders on my crow's feet after a few weeks. I honestly dislike giving them free press (because I don't like how they work with bloggers), but the truth must prevail and this is a great eye cream for those with slight creasing around the eyes. My "smile creases" are still there when I smile, but all but disappear when I'm not smiling. I'm really impressed. REALLY IMPRESSED.
If you love a good nude lipstick, run to your local drugstore and see if you can grab the
Privee Women of L'OREAL Nude Lipstick Collection
. I personally am in love with the Eva and J.Lo colors, despite them being very difficult to track down.
Finally, at the Sephora sale, I picked up a
Make Up For Ever Crease Brush
that I adore. No. 234 is large, but small. It has a point and an angle. It's fluffy, but dense. It's perfect. It costs more than your house landline, but if you love eyeshadow, pick it up! And if you have droopy eyelids, Allure magazine says it's particularly good for you. This is a fact I've seen after purchasing the brush and I believe it would be lovely for anyone who uses a crease technique when applying shadow. Not just those with droopy lids (which Allure tells me I also have).
I know
Lash Sleeve
is my sixth pick, but you need to know about it. If you like tubing mascaras but hate how they give you really thick lashes with no length, Lash Sleeve is for you. This gives me skinny, wispy, romantic lashes that don't look like you're wearing falsies. If longer, non-clumping, non-false looking lashes are what you like, this is for you. No flaking, no smearing, no raccoon eyes. No lie.
What did you fall in love with this week? Tell me all about it!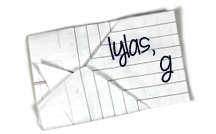 Find Kelly on
Google+
,
Twitter
or
Facebook
. Official
disclosure/disclaimer
statement can be found here.
Subscribe
and never miss a thing!
Copyright 2009-2014, Gouldylox Reviews. All Rights Reserved.