This month's Beauty Box 5 was not my favorite. I'm just being honest. I've liked past Beauty Box 5 offerings quite a bit. This one however, is just not for me. I am a fan of color cosmetics in boxes. I have enough mini-lotions to last for years. Sadly, this box contained no color.

Before we dive in, you should know that Beauty Box 5 is a monthly subscription service that delivers five cosmetic samples to your door for $12 a month.



Here is what I received:
A
Dual-Sided Facial Pad from Swissco
that will exfoliate and cleanse your face like a pro. I'm not sure how the dual-sided action works, since the back of the sponge has an elastic grip so you can attach it to your fingers. Still, it would be nice to keep in your bag when you travel.
Tree Hut Shea Body Butter
in Coconut Lime just isn't for me. I'm not a fan of its cocoa butter scent. It smells like a beachy drink that I may have had one too many of in college. This is a really rich lotion, for applying before going to bed rather than during the day. It takes a little bit of time to dry down, so it's better when you don't need to use your hands immediately after. If you love that kind of smell, this lotion will make your month.
Jane's Pick All Natural Handmade Bar Soap
is lovely to look at. It smells very, very clean and I have no doubt that it would be a pleasure to use. However, as a general rule, I think bar soap is yucky. I know soap is self-cleaning, but I don't see how that is possible. I don't want to clean anything with the remnants of what the previous person used to clean their hands. I'm so sorry, Jane. I fully endorse your creations from the bottom of my heart, but I don't get solid soap.
Makeup Base from Bellapierre Cosmetics
is a nice eye makeup base that isn't overly creamy or sticky. It very much reminds me of Nyx's white makeup base, but it's ivory-toned. I'm sure this would be lovely to even out eyelids on someone with fair to medium skin.
Finally, I received another lotion. This one is from
H20+
Targeted Care and helps the hands and nails. It can definitely go in my purse. It's not sticky, it smells like a spa and if it helps my cuticles, I'll be thrilled;
All in all, this was not the best month. What do you think? Worth the $12? Have you tried this? Tell me about your
Beauty Box 5
!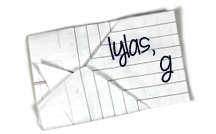 Find Kelly on
Google+
,
Twitter
or
Facebook
. Official
disclosure/disclaimer
statement can be found here.
Subscribe
and never miss a thing!
Copyright 2009-2014, Gouldylox Reviews. All Rights Reserved.