Each week, I explore and play with a tons of new releases and not everything makes it's way here. I'm a true Goldilocks--I'm never quite happy and my attention is fleeting. So I thought I'd try to do a new type of post:
Fab Five Friday
. It's my top five items that I loved this week. The beauty products may show up in the blog later, they may not, but they certainly had my attention.
(Showing off my lighter hair and wearing the YSL foundation. Love it. This picture is straight out of my camera. There is no photoshop or filters. It's just how the foundation reflects light.)
YSL Le Teint Touche Eclat
has been what's on my face every day for a few weeks. It's just as lovely as you would think and it might make its way into being one of my favorites. I am currently using shade Beige Rose for Fair Complexions and I need to add a touch of white pigment to make it match my neck. It gives flawless coverage and wears nicely without oxidizing.
I really love the
Pantone Color of the Year Palette
. I have a full review coming next week, but I love those laptop-looking palettes. The pigments are amazing and you can't beat the price.
I've been using
Simple's Ultra Light Gel Moisturizer
as my daily moisturizer for about two weeks and it's pretty great. It goes on like a plain gel, but keeps my face hydrated without any extra oiliness. Gels don't normally cut it for me, but this is pretty fantastic.
This week I bleached my hair out partially and my strands need some serious TLC. To me, that means no rough styling, minimal use of heat and lots of hydrating hair food. I've been using
Darshana Hair Oil
overnight and
Marco Pelusi Anti-Frizz Leave-In Conditioner
during the day. I'm a little obsessed with Marco's products right now. They are fantastic for your hair! It's one of the only hair lines where my hair looks amazing when I just air dry it. My hair is looking and feeling better with each day and I have no doubt it's because of the serious one-two punch of the oil and the leave-in conditioner. Not to mention the 30+ (!!) pumps of
Davines Oi
I used when I first styled my hair.
I'm excited to see the new collections of
Buxom Full On Lip Polish
--I hear they are like keychains at rest stops--there is one for almost every name! I'm told there are 100 of them, but I have yet to actually see them. I won't be deterred from buying my name. Even if it is a really bright pink!
What did you love this week? Tell me!!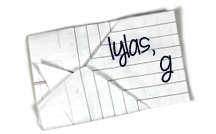 Find Kelly on
Google+
,
Twitter
or
Facebook
. Official
disclosure/disclaimer
statement can be found here.
Subscribe
and never miss a thing!
Copyright 2009-2014, Gouldylox Reviews. All Rights Reserved.