I turned 41 yesterday. I told one of my closer friends that I was planning on letting my hair go naturally silver. I have to get it colored every two weeks, as otherwise my hair is 100% shiny gray.
(This is me on my 41st birthday. I love my red hair. It's a huge part of my identity. But it's such a pain to maintain...See that tiny bit of regrowth along my hairline? That is after about 5 days. I'm not even kidding. Because I know you'll ask, that lipstick- It's Clinique Buttershine in 415.)
After about a week and a half, it looks like my own red hair is floating on top of some kind of magical silver cushion. And it's not cute. (But the shiny, bright underlying silver is really pretty.) My red hair is really tied together with my identity. My red hair is often the only reason people recognize me.
I love my red hair.
Making a change isn't easy. Especially since if it were up to me, I would keep it this way forever. I guess this is something all bottle redheads face eventually. The skunk or the bottle. It's a hard choice.
It bothers me most when I pull my hair back. It looks like I'm balding. I can't keep up with it. It needs to be colored almost every time I wash it. I suppose I'm lucky that my hair still grows so quickly and is in such great shape. That said, the color has been transitioning for years. I've pretended it's more blond than gray, but it's not. It's silver. Shiny, bright silver. I can't pretend it's not happening anymore. I think I'm even ready to embrace it.
(That's me, with what I believe my silver hair looks like under all of this red.)
Personally, I think gray, silver or white hair can be very striking, and not just on grandmas. It's uber-trendy right now, so it seems like the perfect time to begin my own gray hair adventure.
When my friend decided to try to talk me out of it, she started a jovial Facebook poll to get me to change my mind. I expected many women to feel the same way she did. But what surprised me most was how people just couldn't believe anyone would chose to go gray.
Women instantly flooded the FB wall with "ewws" and "I would nevers". "Gray hair never lays pretty!" "You'll look at least 40!" "Hold on to your youth as long as you can!" "It never looks good!" "You're too young to let it go!" "I'm staging an intervention!"
Who knew talking about natural hair color would make so many people become so passionately anti-gray?
I get that people are accustomed to seeing older women with white hair in a bun, using a walker--and that they don't want that to be them. At least not yet. Maybe the idea of someone they know in their age bracket embracing natural color makes them nervous. Is my hair choice somehow forcing them to face their own mortality? As if my silver hair somehow means that since I'm becoming a "dried-up old woman" they must not be far away from a similar fate?
Since when did hair color become the deciding factor in how relevant or attractive you are?
Who made up that rule? And why can't we break it? Blonds aren't really dumb, redheads aren't all Irish and those with black hair aren't she-devils. Surely, we're beyond all of this, aren't we?
I wasn't prepared for how reactive people would be to something that doesn't affect them whatsoever. Why so much hate for gray hair? Why isn't it a sign of respect? A sign of growth and lessons learned? Or at least a sign of maturity? (Ok. I'm not really that mature, so that last one does not apply to me whatsoever.)
(This is the gray at three weeks. I am now getting the part and around my face colored every two weeks.)
Oddly enough, the few guys that weighed in either were in favor of the gray or didn't really care. Maybe women see silver hair as the end to their vitality. As if it were an end to their sexuality, their spirit or their youth entirely. Maybe in this case the guys are just not tied to having the same youth-related issues that women have. Maybe guys realize we are more than the color of our hair? Or maybe it's just not that important.
What do you think? Has this conversation made me question my silvery resolve? Maybe a little. I do love my red hair and I don't feel like I look like I'm too old for my hair color. But having to color it every two week is getting really annoying. What would you do? Go gray? Go blond, where the difference in color isn't as great? Have you considered letting your hair go gray? How do you think your friends would react? Would you care? I have so many questions. Please share in the comments!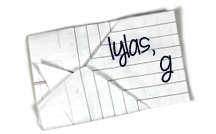 Find Kelly on
Google+
,
Twitter
or
Facebook
. Official
disclosure/disclaimer
statement can be found here.
Subscribe
and never miss a thing!
Copyright 2009-2014, Gouldylox Reviews. All Rights Reserved.