How many lipsticks do you own that you no longer wear? You bought it, hated it and never got around to returning it? Or maybe you bought a lipstick one day, only to fall in love with a lipstain the following week and never wore that new lippie again? And then there is the worst thing possible (relatively speaking)--your absolute favorite color in the history of the world has been discontinued. Now what?

I've got a solution! Let's tackle those lippies you purchased but aren't quite right.

It's easy to correct a lipcolor that isn't quite right. All you have to do is be willing to experiment! Fusion of Color makes beautiful "corrective" pigments. Lip Brights can change your ill shade to something you'll love, without the mess of actually blending your own shade. These are much easier to work with, in my opinion, than other color correctors or mixers, like OCC's Lip Tar. Not only do Lip Tars seem to rupture in my purse, but you need a brush, it's a process, touch ups are tricky, etc.


The
Fusion of Color Lip Brights
are simple to use, like a colored lip balm. They aren't too strong and can go on sheer or with more color, depending on how you use them. Plus, they are easy to use on the go and they won't break the bank.
They are under $6 each!!!
Stock up and reinvent your lipstick wardrobe!
What about your favorite color that is no longer in production? You don't have to go without!
Giella Custom Blend Cosmetics
can re-recreate it for you with ease. You can choose the finish, the texture and even the flavor.
There's no need to trash those lippies that fell short or were plain forgotten. You can make them your own and or make them better!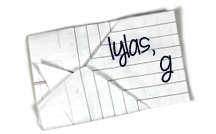 Find Kelly on
Google+
,
Twitter
or
Facebook
. Official
disclosure/disclaimer
statement can be found here.
Subscribe
and never miss a thing!
Copyright 2009-2014, Gouldylox Reviews. All Rights Reserved.