I was intrigued by the new NARS Light Reflecting Pressed Setting Powder when I first read the description:

This setting powder enhances the look of foundation without a trace of color, extending makeup wear thanks to the NARS exclusive Light Reflecting Complex™, which optimizes light-reflection on the skin. Its silky powder is infused with Photochromic Technology, which diffuses light and adjusts to new sources of light throughout the day. Soft, silky and luxurious to the touch and undetectable on the skin, this weightless formula applies evenly and blends effortlessly.


This pressed powder seems like it would be similar to any loose white HD powder, but less messy. However, in the pressed form, it's unique. It does not look like a pressed powder. At first glance, it looks like a block of stone.
When you touch the powder, a trace of almost-clear powder is left behind on your finger. When you use a brush, a very small amount of powder is used. The results from using the product this way is not that noticeable. But when you use the incredibly thin sponge that is included, there is quite a noticeable difference. The skin looks blended, a tiny bit lightened and diffused. There is a small amount of light-reflecting mica powder included in the pressed blend, but the amount of mica used is so small, this isn't going to make a large difference in the way your skin looks. I find that this comes as close to giving me the Downton Abbey look of milky, perfect skin. Lest we forget, I'm already really pale, so this just seals the deal. If you are darker than me, don't expect to pass for a Grantham (Who am I kidding? I'm far more likely to be Anna than Mary).
In looking at my skin under three different light sources, I didn't see much difference. However, my skin looks even, pretty and diffused in low light and in really bright light. So I suppose the difference isn't what it does do, but is what it doesn't do. The
NARS Light Reflecting Pressed Setting Powder
doesn't ever show up as being powdery or dry, even under very bright lighting. I normally find that harsh lighting makes the face look older (dressing rooms, anyone?). But using this, my skin looks even and fresh, no matter what the light circumstances may be.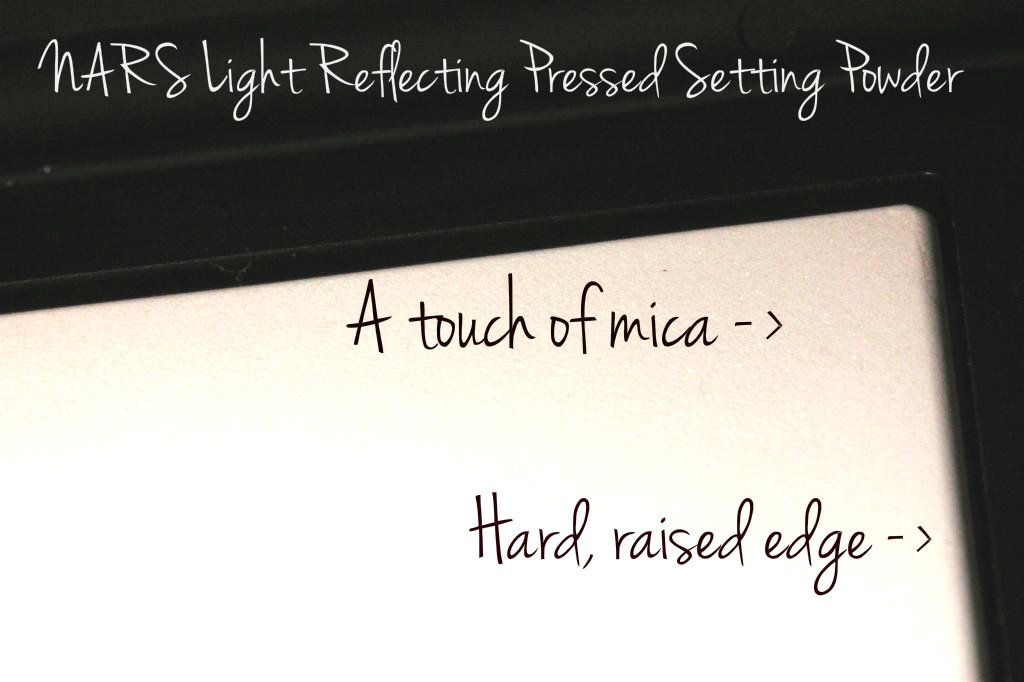 Would you try this or are you happy with your current setting powder?
NARS Light Reflecting Pressed Setting Powder
retails for $34. There is also a
loose version available for $34
, but I really like the uniqueness of the hard pressed powder. If you are in the market for a new setting powder, this is interesting enough to check out.
I bought this. May contain affiliate links.
Official disclosure/disclaimer statement can be found
here.
Subscribe
and never miss a thing!
Copyright 2009-2013, Gouldylox Reviews. All Rights Reserved.