Earlier this month, Cindy Crawford tweeted this:


While Cindy always looks amazing, I've been shying away from wearing a lot of makeup lately as well. For me, it's probably because I'm more hair-focused at the moment, thanks to Truvy and a really hectic schedule. However, I recently saw a blurb in Real Simple which touted a product as "Photoshop in a bottle".
SOLD. I had to try it.
Talika's Skin Retouch for Face, Hands and Neck
. I already know that I love skin perfectors, but I have never seen one that you applied quite like this.You can use it as a primer or as a perfector, on top of your makeup. Or you can use it to go commando, like Cindy. You do have to use a bit of finesse if using it with other foundations. If you wear liquid foundation, this should go over the liquid. If you wear a powder foundation, it should go under. Either way, you'll get blurred lines, diminished imperfections, smoothed skin and less shine.
This bottle comes with a locking top to avoid messes and an attached spatula that helps you spread the product easily and evenly on your face, neck and hands. It's easiest to use the spatula to avoid balling or caking - it only takes a moment to get used to applying it without using your fingers.
Don't forget to apply this to the tops of your hands for instant blurring of fine lines, dehydrated skin and imperfections. The same goes for the neck. If you've always said you wanted someone to walk around with you, photoshopping you at each turn, this may be the answer you've been looking for!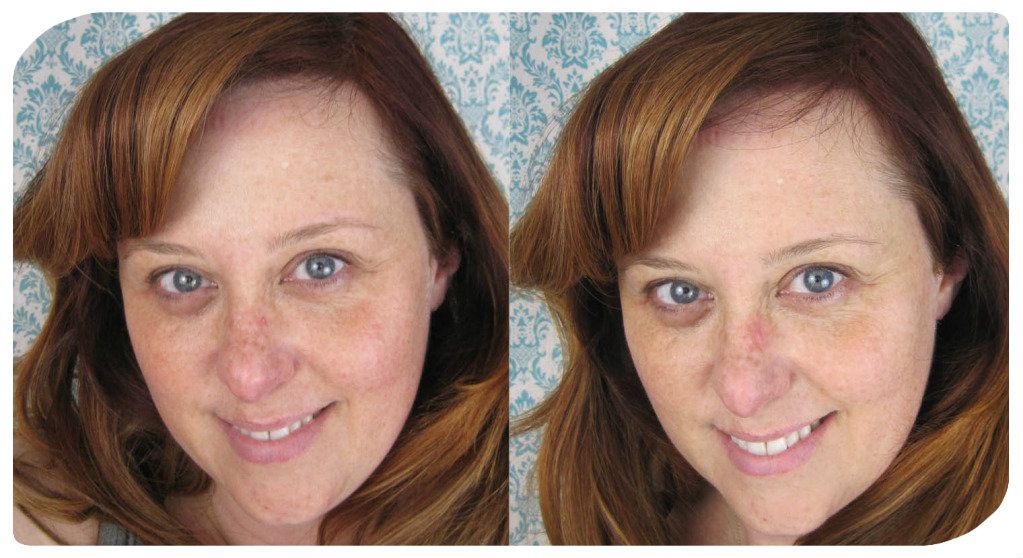 (While this evened out my skin, it did nothing to plump the forehead marks left by my hot roller. That said, my skin - minus nose blemish- is pretty improved!)
I've been wearing it for a week or two as my foundation, only adding a touch of blush and mascara. The before and after photo above shows me with no makeup on the left and then only the Talika on the right. It makes for a really quick face with blurred imperfections. Pick it up from
www.talika.com
for $49.
Sent for review. May contain affiliate links.
Official disclosure/disclaimer statement can be found
here.
Subscribe
and never miss a thing!
Copyright 2009-2012, Gouldylox Reviews. All Rights Reserved.