Long time readers know I'm kind of obsessed with my hair. I have a closet that is partially dedicated to my hair collection. I have full wigs, clip-in sets of human and synthetic hair, pony tails, braids, bangs, falls and every other combo you can imagine. I've worn them all. But I've never had the chance to experience full-on extensions like these that you don't remove every day.


(My hair to show the length, layers and cut. The color is faded and more strawberry than fire engine.)
I've had other opportunities to try "permanent extension systems", but I've avoided them because I'm prone to headaches. I'm not one of those women who can wear their clip-ins all weekend and not have a migraine by Saturday morning. I can't take the pinching, pulling and extra weight.
When I got the chance during S/S 2013 Fashion Week to experience
EasiHair Pro
extensions by lead artist
Christopher Box
, I couldn't have been more excited. Despite a crazy work schedule that collided with a crazy fashion week schedule, this was the one experience I wanted to make sure I didn't miss.
Why EasiHair?

(This is the side of my hair. Chris custom-blended colors to ensure a perfect match. I took this photo before I styled my hair one morning to show you what it looked like at its worst, before it was made "camera ready". It's easy to make hair look good for a camera. It's harder to make extensions look good in real life. These are extensions you can live with 24/7.)
EasiHair Pro's EasiLengths hair extensions are made of real human Remy hair
. This is top quality hair. It looks like my hair on its best day, smooth, pretty and soft. The hair is obedient, resilient and human. This means you can style it however you choose. Dryer, flat iron, curlers. It's human hair. You have to baby it, but it will react like your own hair.
(This is what the attachment looks like. It's bendable, soft and doesn't stand out in the hair.)
EasiHair Pro EasiLengths attach differently from other extension systems.
Instead of sewing, clipping, braiding or gluing in extensions, an adhesive tab is used. The tab is small and can be trimmed so the extensions best fit your hair. It's hard to measure, but my best guess is they are about 1/4- to a 1/2-inch in height. The width of each tab varies. The tabs are totally bendable, weightless and comfortable. After a few days of wearing the extensions, I never remembered they were there. Certainly there are times I'm reminded, but I am not aware of them at every turn.
The tab uses a
medical grade adhesive
to sandwich two wefts of EasiHair Pro around a very thin section of your own hair. A bonder is applied to the tabs before they are applied in your hair and, after 48 hours, the bond is not going to move or go anywhere. Unlike clip-in systems I'm used to that come with five clip-in panels, the stylist re-invents your hair by applying the tab sandwiches in a brick-like pattern, from slightly below your part to about an inch from the hairline, throughout your head. This can change based on person and style, by the way. It's totally customizable to fit your needs. If I've counted correctly, which is trickier than you might think, Christopher used about 20 weft sandwiches on my head, for a total of about 40 individual wefts.
That is a lot of hair! I have very thick hair to start with. I've often been told my hair is the thickness of two normal heads, so you may not require as much hair as I did.
Either way, with about 40 wefts on my head, it's still weightless.
After each weft was applied, they were smoothed into place with my own hair via some help from a flatiron. Afterwards, Christopher trimmed and curled my hair. I was shocked at the before and after.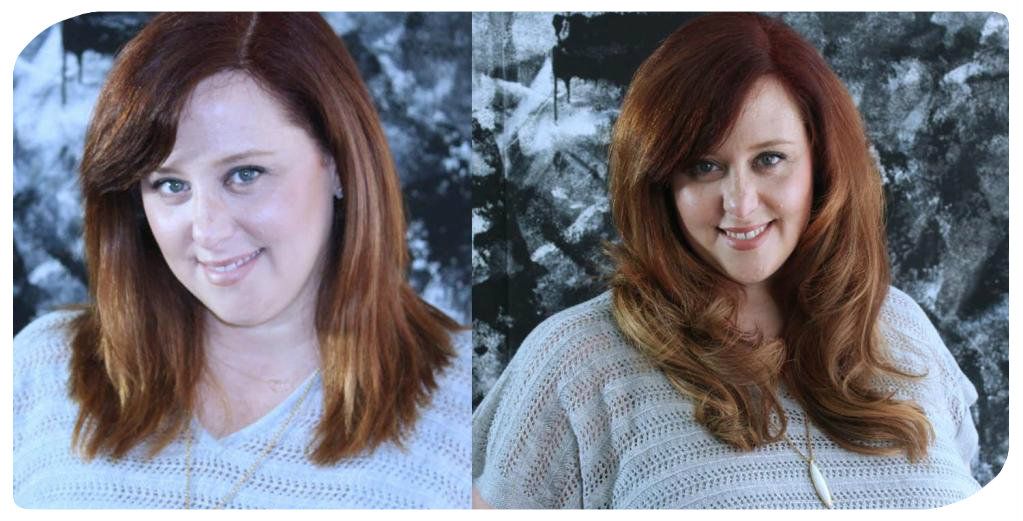 (Me immediately after the transformation. I thought I had a lot of hair before!)
The hair blends seamlessly into my own. My co-workers, who like to marvel at my beauty adventures, have been coming over and inspecting my hair to find the wefts.
It's that seamless.
You can't tell from close up. Honestly, I can't tell where my hair is. I can't. Remember when Kate Gosselin got extensions a few years ago and no one ever really showed her from the back, or any shot of Britney from behind? These are the opposite of that.
They blend perfectly
. Christopher likes to say extensions are part magic and they are. These extensions also hold up in the real world, so it's more than just magic.
Here are several photos of my hair styled on different days. Most of these photos were taken at the end of the day, not immediately after styling.
(This is a really late night cell phone photo of my hair, worn straight at the end of the day.)
Everyone has the same questions and I'll do a few other posts and maybe a video or two to answer some of them in more detail. In the meantime here are the answers you are probably looking for.
1. How much does this cost?
Depending on the type and amount you get, it ranges wildly. Prices start at $200 and go up to about $800. My hair, installed, is about $800.
2. How long does it last?
Depending on how you care for your hair and how quickly it grows, you hair can last six to eight weeks. At that point, you will need to get it removed and tightened up. Proper care is key and not caring for your hair will wreck your weave. If it's cared for correctly, the hair can be taken out and used one more time.
3. How are the extensions removed?
It is removed by breaking the adhesive bond with an oil, similar to how WD-40 removes sticky bits off of glass. This is not damaging to the hair.
4. Can you brush your hair?
Yes. You want to brush using a boar bristle and plastic bristle brush, like a Wonder Brush by Spornette. You will want to start at the bottom of the hair and remove tangles as you go up the length of the hair shaft. Then you can comb the top layer of your hair on your scalp. Be careful not to really dig deeply - the brush will snag. You really have to baby your hair and treat it kindly.*
5. Can you wash your hair?
Of course! You'll have to wash it very gently and it will take longer, but it's not a difficult process. Be sure to avoid oils on the scalp that will break down the adhesive bonds. I prefer to start by wetting the hair and adding a rich conditioner to the midshaft and down. You are going to need a lot more product that you are accustomed to, so plan ahead.
Next, you are going to shampoo your scalp, gently! Instead of using your nails to really scrub your scalp, use the pads of your fingers to gently massage the shampoo in. Add a little more water and use your hands to gently run the soap through the ends. Your hair is going to tangle more than usual. Do not pull on it. You'll rip the hair and damage it. after the shampoo is rinsed, add your conditioner, again from the midshaft down. If you like, apply a bit to your bangs. Again, you want to avoid the wefts as oils will break down the adhesive.
After a few minutes, rinse. Gently blot your hair, without rubbing it harshly on a towel. Apply a spray conditioner to the midshaft down. You want to avoid brushing or combing your wet hair as much as possible (and never, ever sleep on the hair when it's wet). You will want to blow dry your roots only, pressing your wefts to reinforce the bond. You can let it air dry and touch up with an iron. I have MORE details on this and will share in a separate post in a bit.
6. Can you style your hair how you normally do?
Certainly! But you may not want to. I'm having beyond amazing hair days every day. I usually wear my hair up a few days a week and it's easier to wear it down, because it looks fantastic with minimal hassle. While the wefts are very close to your scalp (a personal signature of Christopher's) you may not have as much "bend" as you will when the hair has grown out a bit. You have to be careful that the hair all moves in the correct direction and that your wefts aren't exposed. A Kim Kardashian topknot is tricky. A Lauren Conrad sock bun is much easier. A low pony is easier than a top-of-the-crown pony.
7. Can you use your normal styling products?
Yes and no. If you like to oil your hair (I do!), you have to do it from the midshaft down. You'll want to avoid drying alcohols, use leave-in conditioners and try to maintain the hydration level in your extensions as much as possible. The wefts don't get oils from the scalp the way your real hair does, so you have to baby it. Avoid sulfates. You should probably be doing that anyway.
As I live with my extensions and discover products that are working really well for me, I'll post more. In the meantime, if you have questions, please don't hesitate to ask! If you want to learn more about EasiHair, here is where to connect with them
online
.
8. Can I color my hair?
You can color these extensions. To make them last as long as possible, it's best to have them removed and re-tightened during your color process every month and a half or so. Otherwise, it's best to primarily color the new growth.
9. Where can I get them?
They can be applied by EasiHair Pro-trained stylists. To find a
hair extension salon
click here
. Thinking of getting extensions? Knowledge is power! Visit EasiHair Pro on
Facebook
or
twitter
. Want to learn more about
tape-in hair extensions
? Visit their
site
- it's full of invaluable ideas and information!
I'm planning on posting a few other stories to share the experience with you as I live with my extensions. I'll be sure to give product recommendations and give you the straight skinny on what it's like to have celeb-worthy hair!
In the meantime, if you have a question or comment, tell me all about it!
*I've named mine Truvy, after Dolly Parton in Steel Magnolias.
Product installed for review.
Official disclosure/disclaimer statement can be found
here.
Subscribe
and never miss a thing!
Copyright 2009-2012, Gouldylox Reviews. All Rights Reserved.