When I had the chance to chat with Leslie Blodgett, CEO of Bare Escentuals, at a recent appearance, I had to ask her about her favorite makeup tricks. With almost limitless combinations of over 200 eyeshadow colors and countless blushes and radiances, the possibilities are endless. Here are some of Leslie's favorite tips and tricks.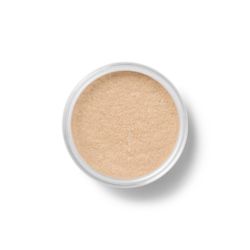 Tip Number One: Wear Flawless Radiance. It's a must have. It gives a dewy sheen, without being glittery or sparkly. It looks very natural and brings a new level of freshness to any blush. If you need to go somewhere and look like you aren't wearing makeup, add a little Flawless Radiance to your cheek bones or to your eyelids. It's subtle enough to make you look as if you really just look that great, with no makeup.
Tip Number Two: Use a color like Twig on your eyelids. Then line your eyes with Midnight Sky, a really pigmented indigo blue. The Twig has just enough sparkle and color shift to really play up the deep blue. It's a striking color combo that a lot of people don't put together. Try it! Depending on how heavy handed you application, the look can range from smoldering to really natural and effortless. Either way, it will make your eyes pop!



Tip Number Three: Layer Flawless Definition Mascara with Buxom Lash Mascara for incredibly long and thick lashes. The key is to curl your lashes first and then put on a coat of Flawless Definition Mascara. While that layer of mascara is still wet, add a coat of Buxom Masacara.

This one blew my mind. While I have used chafing cream as a face primer and hydrating Visine as a mixing agent for mineral eyeliners, I have never thought to layer my mascaras, beyond what comes with a mascara primer. I immediately ran out and bought Buxom Lash Masacara (and Eva Buxom Lip Polish in this nifty bargain combo, A Wink and a Kiss) to try this for myself. One of my co-workers thought I was wearing false lashes. She literally got in my face and examined my lashes, from a few inches away. She was impressed. I was blown away.

This weekend, three Gouldylox Reviews readers are getting treated to makeunders by Bare Escentuals. I can't wait to see what tips and tricks I learn, not to mention seeing their makeunders. Check back next week to see the results!


Subscribe and never miss a thing! Copyright 2009, Gouldylox Reviews. All rights reserved.